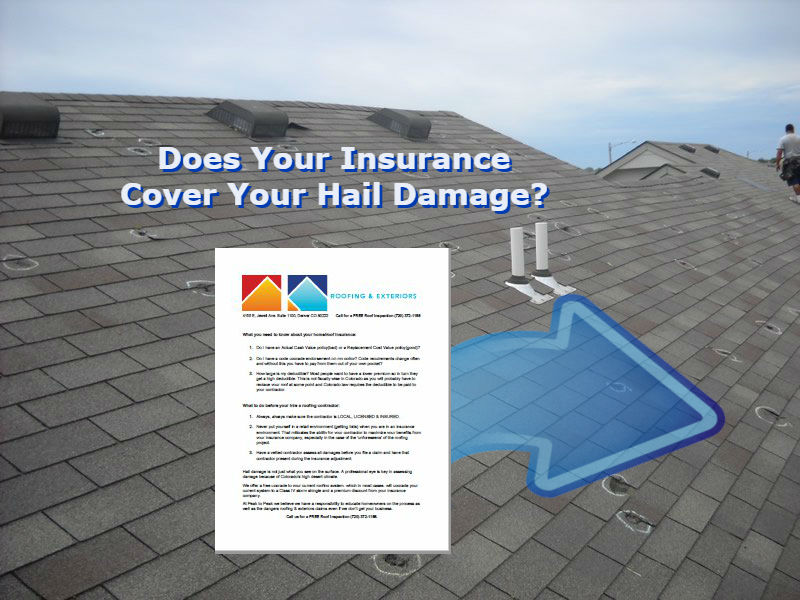 "As the victim of one of Colorado's hailstorms, I filed a claim with my insurance, USAA. Extreme winds and hail damaged a portion of my roof and the paint on two sides of my house. I called Peak to Peak and it was only a few weeks before work started. I have always been very skeptical when dealing with contractors, so I was very happy when they did all the negotiating with USAA to get a full replacement roof and my entire house painted as well. They kept track of all paperwork and payments up until the very end. The office staff and Damen were polite and professional."
Do You Know What To Ask Your Insurance Company?

Don't Be Caught Off Guard!
Download this free guide on what to ask your insurance company to make sure you are fully covered. And how and when to select a roofing company.
FREE 10 Point Wind & Hail Inspection
This is the hail season in Colorado and has already hit Denver, Highlands Ranch, Lakewood, Littleton, Greenwood Village and Aurora. Waiting too long to get your property inspected after a storm may not only cause additonal damage to your house but may not be covered by insurance.
Our property inspection is FREE
We inspect the entire exterior: roof, gutters, windows, screens, siding, decking, fencing & personal property.
We are a local, licensed and insured General Contractor and have been guaranteeing our work for almost 10 years.
We make sure to maximize your benefits from the insurance company as well as repair and replace to manufacturer specifications and current IBC code requirements.
For a FREE 10 Point Inspection Call (720) 372-1188
© 2016 Peak to Peak Roofing.